You are here
I Wrote a Blog About You
What do you do when no one is interested in you or your company?
There's one organization that had millions of people using it and no one paying for it. They needed a campaign that would work, especially with the young crowd. Meet  Radiotjänst, Sweden's TV and radio licensing organization. Also known as a boring company.
Read on to discover the one secret that they used which got 14 million to act.
Check this out. It's one of the most brilliant viral campaigns I've ever seen.
(Click on the image to watch.)
Here's what this Swedish licensing company did:
They created a video about an unnamed hero. Suspense builds as people across the world wait to see the picture of this new hero who has changed society as we know it. Everyone is watching and waiting.
Now here's the catch- they pull out a picture of YOU.
People start cheering, and jumping for joy. Some are crying. Your picture is plastered on billboards, floating in outer space, waved proudly in rallies, and even replaces an old lady's family pictures.
You're the new Swedish hero.
Then, Radiotjänst thanks their paying subscribers. The end.
Here's why it worked and why this campaign can change your marketing:
Because it's all about YOU.
The campaign went wild because people uploaded their or their friend's picture onto the video to become the new Swedish hero. And right next to "upload your picture" is a "pay your licensing fee" link. Brilliant.
It was personal and super entertaining. It didn't matter that it was from a Swedish licensing company (yawn), Radiotjänst. The video was about you, so it was shared, and shared a lot. In just 8 weeks the campaign got over 14 million hits!*
Here's the deal:
We're jaded by all of the mass marketing that has cluttered the marketplace. We don't want to be just another "dear reader". We're tired of being talked at. We want to be talked to. We want and expect things to be personalized.
Personalization is not just a good idea, it's a proven way to increase response rates and engagement.
*CLICK HERE to discover the 2 proven, most powerful words to increase response rates.*
Coca Cola recently used personalization in a famous campaign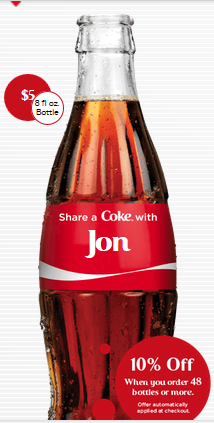 which boosted their declining sales dramatically.
They had the largest year over year growth in Coca Cola history with their 20 oz bottles which directly lead to a whopping 19% growth.*
They printed bottles of coke with 250 of the most popular names amongst teens and millennials, along with generic buzz words like "family", "friends",  with the header of "share a coke with". You could also order your own personalized bottles of coke online or special vending machines. People drank it up, literally.
Why?
Because everyone loves seeing their name, especially on a big brand like Coca Cola. It makes it personal. It goes from being a generic bottle of coke to your private label bottle. It's not about Coca Cola anymore, it's about you.
*Take 30 seconds now and CLICK HERE to schedule a complimentary 15 minute Personalization Quick-Start meeting. It will be unique to your needs and your company. Guaranteed.*
Here's another almost spooky example.
GoILawn.com uses cutting edge technology to digitally assess a property's lawn and landscaping. But it doesn't stop there.
They sell this technology for landscaping companies to use on mailers.
How?
Imagine if you got an envelope with an aerial picture of your house with all of the issues of your landscaping depicted and highlighted. That's not only remarkably personalized, but it's actually helpful,
relevant information. Aren't you far more likely to open and respond to that than a mailing with a stock photo of a generic, beautifully manicured lawn?
So if personalization is so great, why doesn't everyone do it?
Because it can be a hassle.  The reality is that it's just easier to speak and sell to everyone instead of a specific someone.
But here's another reality: technology is making personalization easier and easier. I'm not talking about fancy algorithms to track customer behavior and provide unique offers specific to their interests. (Although companies like Target have begun to implement this in fascinating ways. Read more HERE.)
I'm talking about simply including peoples' names in your mailings, remembering and referencing personal details that were previously shared with when you speak to a customer. I'm talking about providing unique examples and testimonials from specific industries.
Here are 5 starter questions to ask yourself to improve your company's personalization:
Do I refer to people by their name online, over the phone, and in person, or speak en mass?

What specifically can I do to add more personalization to my marketing?

What can I do to make the buying experience more personalized for my customer?

How can I target my market with personalized, relevant information?

How can I make my personalized campaign feel genuine and real?
And yes, I really did write this blog about you. Because I want to help you, specifically make more money by using personalization effectively.
So let's get together and talk about you and your situation.
*Take 30 seconds and CLICK HERE to schedule a complimentary 15 minute Personalization Quick-Start meeting. It will be unique to your needs and your company. Guaranteed.*
PLUS, after we meet you might just find a little sweet something with your name on it in your mailbox. Just for you.
Taking you from where you are to where you want to be,
Jon Goldman