You are here
How he tripled his business in 12 months...Part 2
How he tripled his business in 12 months...Part 2
July 29, 2016
This is the second part of our two-part email this week. (You can read Part 1 here.) Get ready to take immediate steps towards a better ROI on your marketing... 
In Part 1 of this email, I taught you:
        • How to find your Hungry Fish - the prospects who want you to solve their problem for them.
        • How to illustrate their PROBLEM, AGITATE their pain, tell a compelling STORY, and offer a SOLUTION to their problem - P.A.S.S.
        • How to set up your Tripod of Persuasion with a Big Zig, your POOBA, and a Reason to Believe.
Those are the foundation of our One Page Marketing Plan. They tell you who you're going to market to and how you're going to market to them.
Once you have your tripod set up, you're ready to attract hungry fish with the irresistible bait. 
This is also where you ask your prospect to take an action and make a commitment. This single step is where you produce qualified leads.  
Imagine how much easier the sales conversation is when prospects approach you because you're the expert!  
Mike offered up his Irresistible Bait in the form of an ebook called "The One Hour Property Manager."  
Your Irresistible Bait gives your Hungry Fish proof you are the expert you claim to be. 
He was literally expert enough to write the book on the subject! 
Irresistible Bait can come in the form of an ebook, online video, an email course, even a webinar. You can even reformat and present your bait in multiple ways.  
Your Irresistible Bait attract prospects by giving them value first.
Mike gave his Hungry Fish time and money-saving knowledge on managing real estate properties. 
And it's a ready-made lead generation funnel that prompts prospects to opt-in for free information...bringing them to you.
---
Instantly download our FREE
One Page Marketing Plan Worksheet!
---
     If you want to scale up, you must create a lead generation process.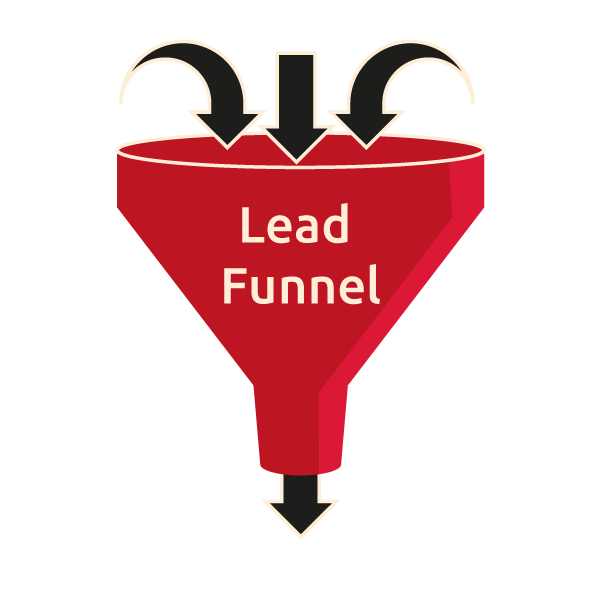 Next you'll need to create a Lead Generation Machine to generate, develop, and convert leads. If you don't do this step, it's like sowing seeds and never going back to harvest the crop.  
Since we are in an overly stimulated marketing environment you must repeat yourself. But you must do it in a way where you move from being an unwelcome pest to a welcome guest.  
And you do this by offering helpful, relevant information.  
This is where you dangle your Irresistible Bait and offer it as an opt in. Either on your website, social media, or in person. 
              Multiple Touches is what separates the men from the boys.
A study done by the Association of Sales Executives revealed that 81% of all sales happens on or after the fifth contact. But 93% of the businesses give up by the 2nd or 3rd try!
On top of that, for every 45 days you go without contacting your leads, you lose 10% of your influence over them. 
So the secret is to create a calendar of activity to keep in touch.  
Be rigorous, it takes tenacity to win this game. This is where your persistence will pay off big time. The research is there... don't try to market just once, get discouraged, and then give up.
Marketing is a process not an event.
Like I said in Part One of this blog post… too many people miss out on profits because they fail to take the time to implement what they learn about marketing.  
And I don't want that to be you.
The other day I had you fill out the first two sections of our One Page Marketing Plan, and I offered to review your work for you.
Today you'll need to take a few more minutes and fill out the rest of our One Page Marketing Plan Worksheet.
Taking you from where you are to where you want to be,
---
Instantly download our FREE
One Page Marketing Plan Worksheet!
---